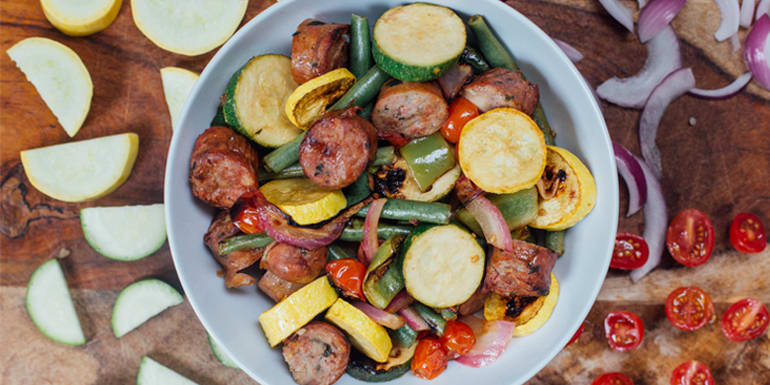 In this flavor-rich dish, colorful veggies like zucchini, squash, cherry tomatoes, bell peppers, and green beans soak in a tart marinade; chicken sausage adds a boost of protein.
Ingredients
2 tsp. olive oil
2 Tbsp. balsamic vinegar
2 Tbsp fresh lime juice
2 cloves garlic, chopped
Sea salt (or Himalayan salt) and ground black pepper (to taste; optional)
1 lb. green beans, ends removed
2 medium zucchini, sliced
2 medium summer (crookneck) squash, sliced
1 cup halved cherry tomatoes
1 medium green bell pepper, sliced
1 medium red onion, sliced
4 cooked chicken sausages, sliced
2 Tbsp chopped fresh basil
Instructions
To make marinade, combine oil, vinegar, lime juice, and garlic in a medium bowl; whisk to blend.
Season with salt and pepper, if desired; whisk to blend. Set aside.
Place green beans, zucchini, summer squash, tomatoes, bell pepper, and onion in a re-sealable plastic bag (or large bowl). Add marinade; shake to blend. Let sit for 30 minutes.
Preheat grill or broiler to high.
Place veggie mixture on a large sheet pan (or broiler pan). Add sausages; mix well. Spread out evenly.
Grill or broil for 4 to 8 minutes, turning occasionally, until vegetables begin to soften.
Sprinkle with basil before serving.
CLICK HERE for original recipe!