What I Took On My Coach Retreat – Make Up Edition
Ah! It's finally here! You asked and you shall recieve, here is a list of all of the makeup items that I took with my on my Coach retreat. I have included links for all products and have also listed what I can on my amazon lists!
Now, remember, I am not makeup artist, cosmetologist, or dermatologist, but these are just the products that I have love or am trying out!
If you try any of these products, let me know!
Face Primer:
Wet n' Wild Photofocus Face Primer (Link) – I feel like I am constantly on the hunt for good primer. If I am using this primer and the one listed below, I don't put this one on the spots of my face where I have pores that need to be covered, so my nose and cheek area. I think this is a good primer, especially for the price
L'Oreal Magic Perfecting Base (Link) I am loving this product for covering my pores! It allows for the products I put on top of it to be so smooth! I hear that this is a good dupe for a Tarte primer — and who doesn't love a good dupe!
Foundation:
Makeup Revolution Conceal & Define Full Coverage Foundation in shade F3 (Link). If I'm being honest, I'm not sold on this foundation. It has good coverage, but sometimes I can cake up funny on my chin. I'm struggling with some combination skin right now and if I have any dry patches, this is definitely going to cling to it!
Wet & Wild Photofocus Foundation in Shell Ivory (Link) — As of writing this blog, this is on for $2.39. If you like a full coverage foundation, snag this one!! Just a warning it does have a strong smell when you first open it, but it doesn't last long and the coverage is worth it!! I keep going back to this foundation because it works!
Flower Beauty Light Illusion Foundation in Ivory L12 (Link). This is the first bottle of this foundation that I have ever had and it's quickly become one of my favorites. It is a great everyday foundation. It provides good coverage and the coverage can be built up, without looking cakey. It's light feeling, feels good on my skin, and has an SPF!
Concealer:
I took several concealers with me! I was almost out of everything I had, so I took them all, just in case! No one with chronic dark circles wants to be without concealer! lol
Wet n' Wild Photofocus Concealer in Fair Beige (link) and Dark Cocoa (link). This is such a good concealer!! I love it. I use Fair Beige to conceal under my eyes and Cocoa for a liquid contour!
Morphe Fluidity Full Coverage Concealer in C1.55 (Link). As with most Morphe products, this is a good one! It's low cost and high pay off qualities are my favorite!
Tarte Shape Tape in Fair-Light Neutral (Link). This one is a crowd favorite. It seems that anyone that tries this one, loves it! It has great coverage, but the penny pincher in me does not like the price tag!!
Eye Shadow:
Morphe x James Charles Pallette (link) — If you like color, you need this one! Morphe's shadows are what originally brought me into the Morphe brand. They all seem to have great pay off! Plus, if you want them to pop even more, spray your brush with a little setting spray and you will be amazed!!!
Morphe x. Jaclyn Hill, the Vault Dark Magic (Link) — Same as the one above, I have not been disappointed with this pallette. I have all of the pallets in this collection plus Jaclyn Hill's original pallette and I love the colors. I specifically took the Dark Magic one with me because I use the two shades of brown non-stop. The darker of the two shades is what I use for liner
Brows:
Previously I was a strict Anastasia Beverly HIlls brow product user — until I found these two products. They are cheaper and just as good!!
Morphe Brow Pencil in Latte (link):
Morphe Brow Pomade' in Latte (link):
Let's be honest for this one – brow gel, doesn't need to be fancy, anything does the trick! That's why I like this product, BECAUSE IT'S CHEAP!
e.l.f. Clear Brow & Lash Mascara (link)
Bronzer:
e.l.f. Contour Palette (Link)
Wet n' Wild Contouring Pallete (link)
Blush: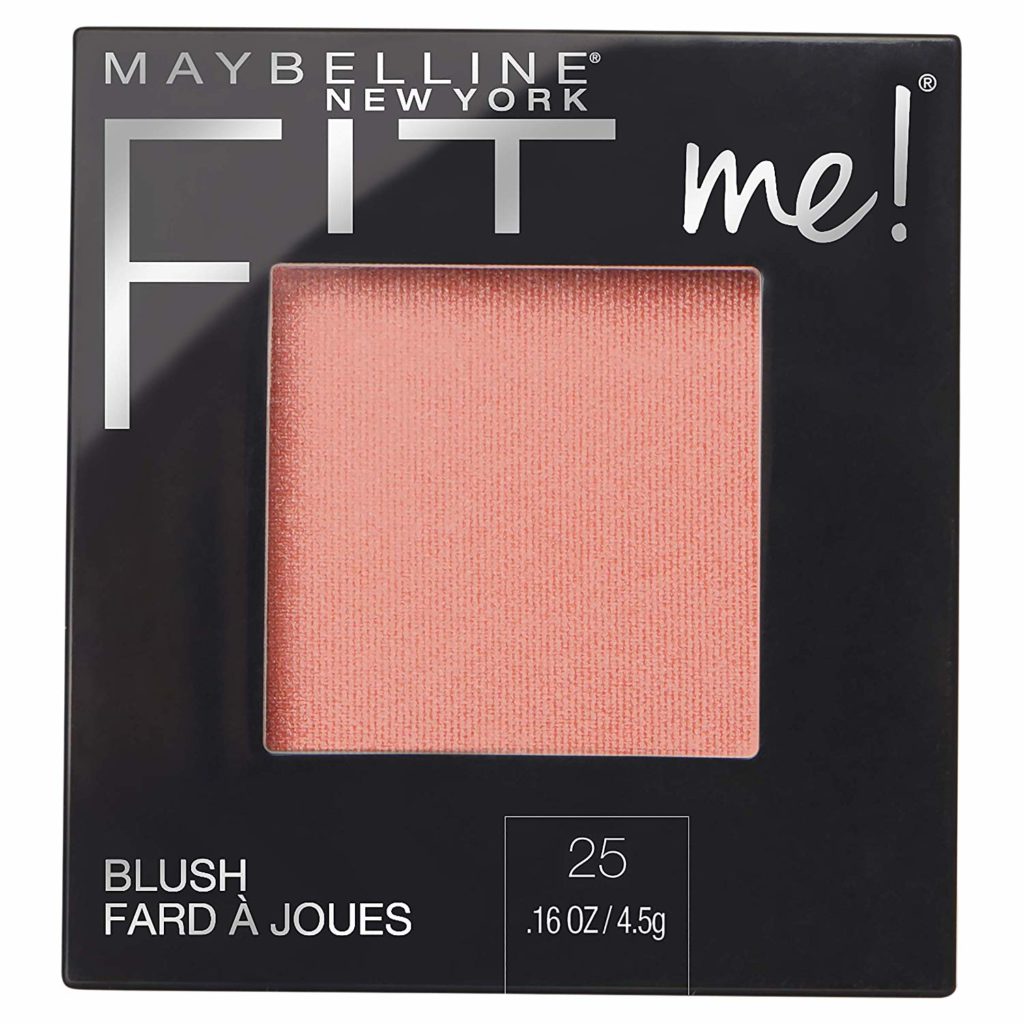 Makeup Revolution The Matte Blush in Fusion — Soooo writing this post I have not been able to find this blush. Which makes me think they discontinued it and wonder how long I've had it. Folks, don't forget that makeup has an expiration date. As much as I love this color, it may be time to retire it 🙁
Maybelline Fit Me Blush in Fard A Joues (Link) – I love this blush. I would probably wear it more often if it didn't have shimmer in it. I do plan on buy other shades and hopefully a matte one to add to my collection.
Setting Powder:
Coty Airspun Loose Face Powder (Link) — I have this in several shades and love it. I use this to set my entire face, including my under eye concealer. This is also great to use to blend out any eye shadow.
I have heard (never experienced myself) that this is a dupe for Laura Mercier Loose Setting Powder
Mascara:
L'Oréal Paris Makeup Voluminous Lash Boosting Conditioning Primer Mascara (link)
L'Oreal Paris Makeup Lash Paradise Mascara (link) – I try a lot of different mascaras and I find myself continuously going back to this one! I have also heard (not compared myself) that this is a dupe for the Tarte Better Than Sex Mascara.
Senegence LashSense VolumeIntense Mascara (Link) — What I love about this mascara, not only does it separate nice, it's great for your bottom lashes but it also has a lash growth serum in it.
Setting Spray:
Flower Beauty Seal The Deal Long-Lasting Setting Spray (link) — this one is not pictured the picture of the items I took because I used up the bottle I took and haven't had a chance to replace it yet. I love this. I love it to set my foundation, or to spray my brush when applying eye shadow to make it more colorful!
Lip Balm:
Senegence, LipSense Moisturizing Lip Balm (link) — this stuff has changed my life. I switched from using any other kind of chapstick and my lips have never been the same. I use this once in the morning when I'm getting ready and my lips are moisturized throughout the whole day. They now have a tinted version that I need to try!!
Welp folks! That's it! That's all the makeup that I took with my on my Coach retreat trip. This trip included no only every day makeup needs but also two photoshoots. This stuff is the stuff that I knew I could count on to make me look photo ready!!
Now – I am ALWAYS looking for new makeup suggestions! Soo.. if there's something you think I need to try! Puuuuu-lease comment below and let me know!!!
Keep an eye out for part 2! What I took with me – skin care edition!